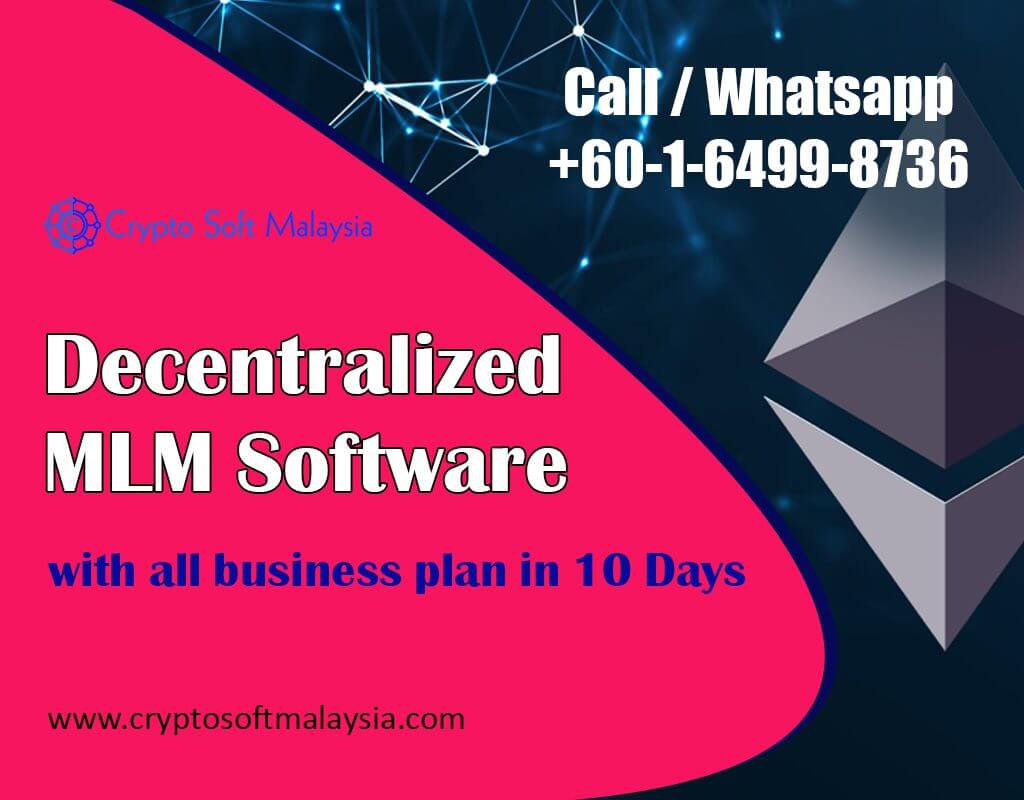 Smart contracts are self-executing, self-enforcing contracts. They are governed by the explicit terms and conditions laid out within them.
These virtual agreements can facilitate the exchange of money, content, shares, property, or anything of value.
The self-executing nature of these contracts provides a tremendous opportunity for use in any field that relies on data to drive transactions.
We will take a look at the integration of Multi-Level Marketing (MLM) platform development, cryptocurrency, and smart contracts. However, we need to understand the basic concepts of smart contracts, MLM, and cryptocurrency.
Multi-Level Marketing
Essentially, MLM operates as an expandable mechanism in which people keep encouraging new members to join for the expansion of operations. In the MLM model, the contribution of every single member and incentive distribution as per their performance becomes essential. Therefore, it is necessary to bridge a connection between end-users and wholesalers as both serve as the base of this business.MLM models are successful as the network expands rapidly while giving leeway for every member of the network to taste success. Now, let's take a look at the types of multi-level marketing.
MLM models come in various types which make it easy for enterprises to expand the distribution of products or services by adopting one of its structures like matrix MLM plan, investment MLM plan, uni-level MLM plan, stair-step MLM plan, Australian binary plan, generation MLM plan, binary MLM Plan, broad plan MLM plan, etc. An enterprise must seek service of a smart contract and cryptocurrency development company that holds expertise in developing both concepts
MLM Business | Advantages
Adopting an MLM business plan can provide flexibility, cost-effective operation, a good scope of income, no time and place limit, insignificant quantum of risk, high leverage, progressive business model, and diverse models to choose from. If you think MLM is not an efficient marketing model, the integration of smart contracts with cryptocurrency into the structure can completely change your perception. It might surprise you how smart contract solutions development for cryptocurrency-based MLM models eliminates the flaws of the mechanism.
Smart Contract Powered MLM
MLM emerges as one of the convenient and affordable methods to expand a business as well as its customer reach. The distribution network businesses indispensable functions and tools that enthuse synergy a company's working. The tools and functions also provide more stability for the scalability of business within its respective domain.
Smart Contract Integration
When we integrate smart contracts solutions into the working of an MLM business structure, it simplifies the selling while making it integral to the perpetual growth of the enterprise. With a peer-to-peer architecture, it generates more assets for the company. When smart contracts are configured into the core of your enterprise, it provides multiple advantages. It eliminates the chances of fraud that most of the wholesalers and end-users are exposed to. The inclusion of smart contracts brings a high level of precision in operations while establishing a strong trusted network. The integration enables automated transactions with authorized techniques.
Blockchain Smart Contracts and MLM
Smart contracts work according to blockchain's characteristics like immutability, transparency, traceability, and efficiency to maintain anonymity in the transactions. Indeed, blockchain smart contracts enable business owners to review terms and conditions and customize them as per their enterprise needs. It is crucial to hire a blockchain and crypto development company that can make the system as descriptive as possible.
Powering MLM business with blockchain smart contracts eliminates the chances of the scamming of an MLM business. Also, the use of smart contracts empowers all types of MLM business plans. An MLM Platform powered by a smart contract solution excludes the involvement of all third-parties, establishes a peer to peer architecture, provides multiple payment gateways, eliminates malpractices, ensures strengthened data security, fast and secure transactions, effortless traceability, anonymity and transparency, and whatnot.
Cryptocurrency and smart contract MLM development company
A company that has deft developers who are well-versed with these concepts can bring this efficient business model into realization. Oodles is a cryptocurrency and smart contract development company. We provide first-rate crypto MLM software programs enabled with smart contracts. Additionally, yy adopting an overarching approach, our team ensures that your enterprise gets efficient crypto MLM and smart contract solutions. Our services offer a high level of efficacy to the core structure of an MLM business model. Further, meticulous assessment of your requirements ensures that you get a flawless outcome for perpetual progress.
We empower an MLM business with cloud-based solutions, decentralized applications, crypto promotion tactics, cryptocurrency integration, CRM integration, e-commerce integration, e-wallet, multiple payment gateways, safer and faster transactions, fast payouts, end-to-end transparency, bug-free MLM script development, MLM data migration, and more.
Whatsapp : +60164998736
www.cryptosoftmalaysia.com